Abilene's Innovative CRT Expands With "CRT2"
Contact Details
2616 South Clack
Abilene, TX 79606

Phone: (325) 690-5100
24-Hour Crisis Hot Line: (800)758-3344

Abilene, Texas (January 7, 2021) – Abilene's second Community Response Team, dubbed CRT2, has been officially up-and-running since December 14th, 2020. This new team, launching a few months after the 1-year anniversary of the initial CRT, allows for expanded operating hours and greater coverage of crisis calls in the area.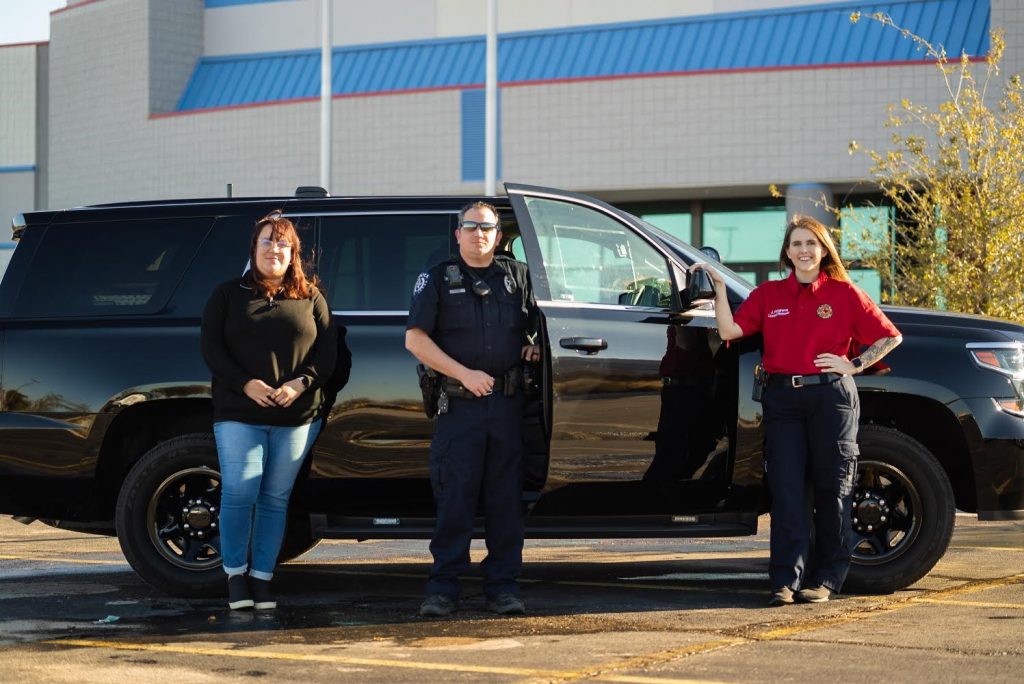 Each CRT consists of an Abilene Police Department officer, an Abilene Fire Department paramedic and a mental health clinician from Betty Hardwick Center to provide tailored assistance to those in crisis. CRT2 comprises Jake Allred (APD), Joanna Hargrove (AFD) and Mariana Guevara (Betty Hardwick Center). The two teams will overlap Tuesday through Thursday, while covering later into the evenings and allowing for Monday coverage — neither of which were previously possible.
"It's been about a year in the working," said Mariana Guevara, of her preparation for CRT2. "I've gotten to see what [CRT1 is] doing and it's amazing what they've been able to do. There's not a lot of teams like this, so it's pretty cool to be here at the start of it."
The new team has worked closely with the first since its inception by undergoing the same training and serving as alternates when team members were out. Ride-alongs were also instituted in the run-up to CRT2 going live.
In addition to the team's prior exposure to the position, CRT2 has the benefit of considerable continuity. In addition to serving as a CRT backup, Officer Allred has been an APD officer alongside CRT1's Brian Poynor for 12 years and has experience with mental health calls. He and Mariana Guevara also have familiarity, as the two have frequently worked the same shifts in their previous respective roles. That working relationship has already proven helpful in getting CRT2 underway.
"I think some of the challenges that Team One faced was trying to get all the different contacts with different agencies," said Officer Poynor. "I think a lot of those relationships have been started so it would be easy to say that we have another team and now they can have the same amount of success that we've had."
This approach to handling crisis calls, including those related to mental health, ensures that calls are met with the appropriate response. The team's versatility allows them to assist callers with a more personalized level of care and with long-term positive outcomes for the caller in mind. This approach also cuts back on the overtaxing of other officers, ambulances and hospital resources.
"We can spend a little more time on trying to figure out how to solve their problem. We have the luxury of having a rapport with a lot of agencies in the community," said Officer Poynor. "We can spend that extra time and get them plugged into resources and other agencies in the community that can try to improve their situation."
"It's a lot more proactive," said Guevara.
Abilene's CRT initiative is only the second of its kind in Texas and one of three nationwide. Abilene's model has been presented to agencies in larger cities, such as Chicago and Philadelphia, in the process of developing their own teams.
"It's cool for Abilene to be talked about nationally and in a positive way," said Guevara.
"Whenever somebody has a problem, they first people they call is 911, and then from there the police show up," said Officer Poynor, "and that's how law enforcement got put in the role of dealing with mental health subjects because everybody calls 911 and we're the first ones to show up for that type of call."
As constituted, Abilene's CRT is equipped for a wide variety of calls and no individual responder has to find a one-size-fits all solution.
"It also helps that [callers] get to see a positive. Sometimes their interactions with the police aren't always the best if they're being arrested or something. But this way, [the officer] gets to create a relationship with the person. They're here to help and not just here to arrest," said Guevara. "It changes their outlook on how they see our first responders."
"Except the fire department. Everybody loves the fire department," added Officer Poynor.
***
Categories: Uncategorized
Tags: crisis, CRT, mental health