What Is Mental Health First Aid (MHFA)?
MHFA Coordinator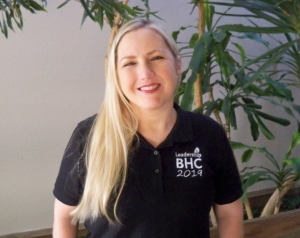 Meet our MHFA Coordinator, Sandra Lang! She can answer all of your questions related to our Mental Health First Aid courses.
phone: (325) 691-2061
email: slang@bettyhardwick.org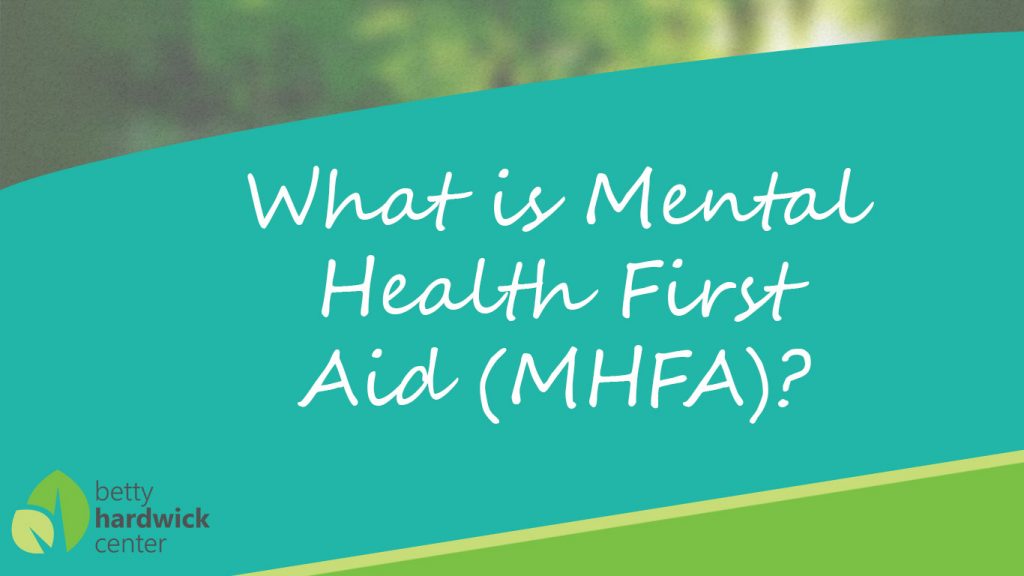 What is Mental Health First Aid?
Mental Health First Aid (MHFA) is a groundbreaking course that fights the stigma of mental illness by fostering empathy skills in trainees and providing them the resources they need to properly assist others who are experiencing mental health crises. It is a public training program designed to increase awareness and recognition of mental health disorders. MHFA:
Introduces participants to risk factors and warning signs of mental health disorders, builds understanding of their impact, and provides overviews of common treatments.
Teaches trainees to identify, understand, and respond to potential mental health crises such as suicidality, depression and substance abuse.
Equips trainees to support others in crisis (or potential crisis) and to guide vulnerable people to the appropriate professional help.
Mental Health First Aid was pioneered in Australia, by Betty Kitchener and Anthony Jorm back in 2001. MHFA as deployed in the United States is an adaptation of the original Australian program. The course can be thought of as a parallel to the traditional first aid courses that are essential to the duties of first responders and many other professions. MHFA is to mental illness what traditional First Aid is to bodily injury.
Mental Health First Aid training has become a key component of encouraging greater public understanding of mental health issues and greater empathy for the suffering they cause. MHFA courses are typically delivered in single-day, 8-hour session, free of charge.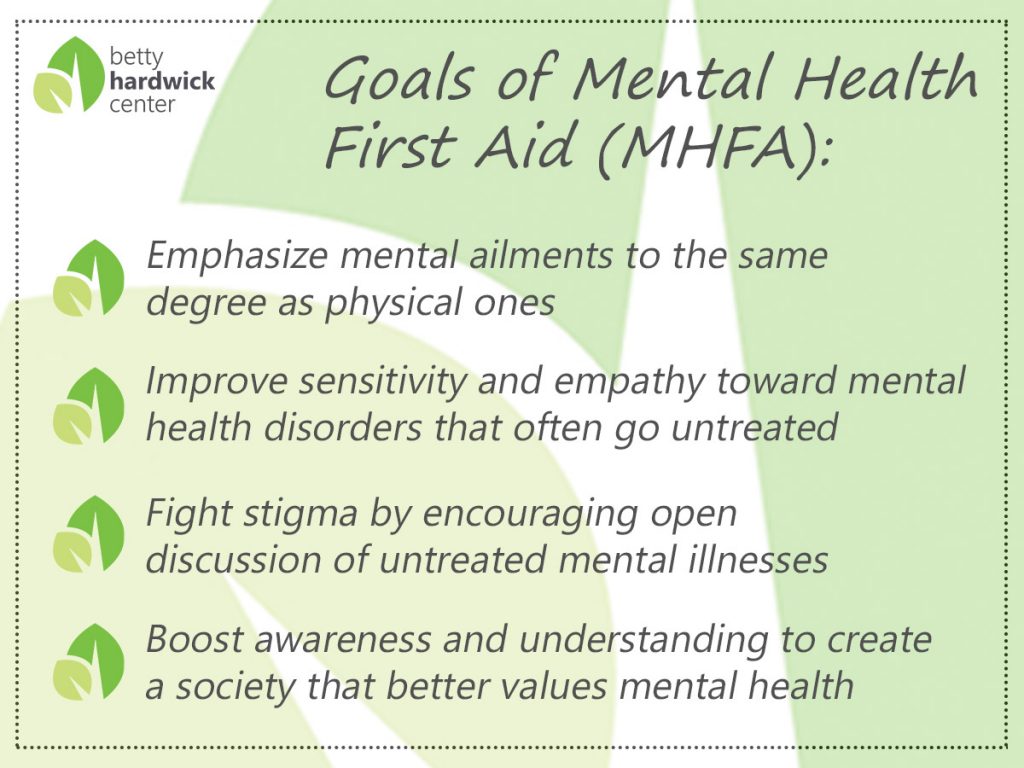 Why Mental Health First Aid?
Training people in MHFA improves our infrastructure for reducing suffering caused by mental illnesses. It achieves several other goals as well. Having an educational structure in place for addressing serious and developing mental health issues elevates the urgency of mental health to a similar level as physical health. Much in the same way that traditional first aid helps prevent physical harm, MHFA focuses on less-visible ailments. This curriculum is building up a contingent of "mental health first responders" who can recognize such ailments in others and guide them toward wellness.
As more people are exposed to MHFA training, more people will be able to preach sensitivity and appropriate response to mental health issues. They are helping to demystify what is still a largely misunderstood field. With more understanding comes more open discussion, which leads to more people finding treatment they might not have gotten otherwise.
Goals Addressed by MHFA:
Creating a protocol that parallels traditional first aid, empowering trainees to view mental health matters just as seriously as visible physical ailments
Improving our ability to discuss and have sensitivity toward common mental health disorders that commonly go untreated
Fighting stigma, as the more people who train in MHFA, the more people there are who understand the perils of untreated MH issues
Creating a groundswell of increased interest and empathy for those with mental illness… We're not all the way there yet, but it is getting better slowly.
What is the difference between Mental Health First Aid and traditional First Aid?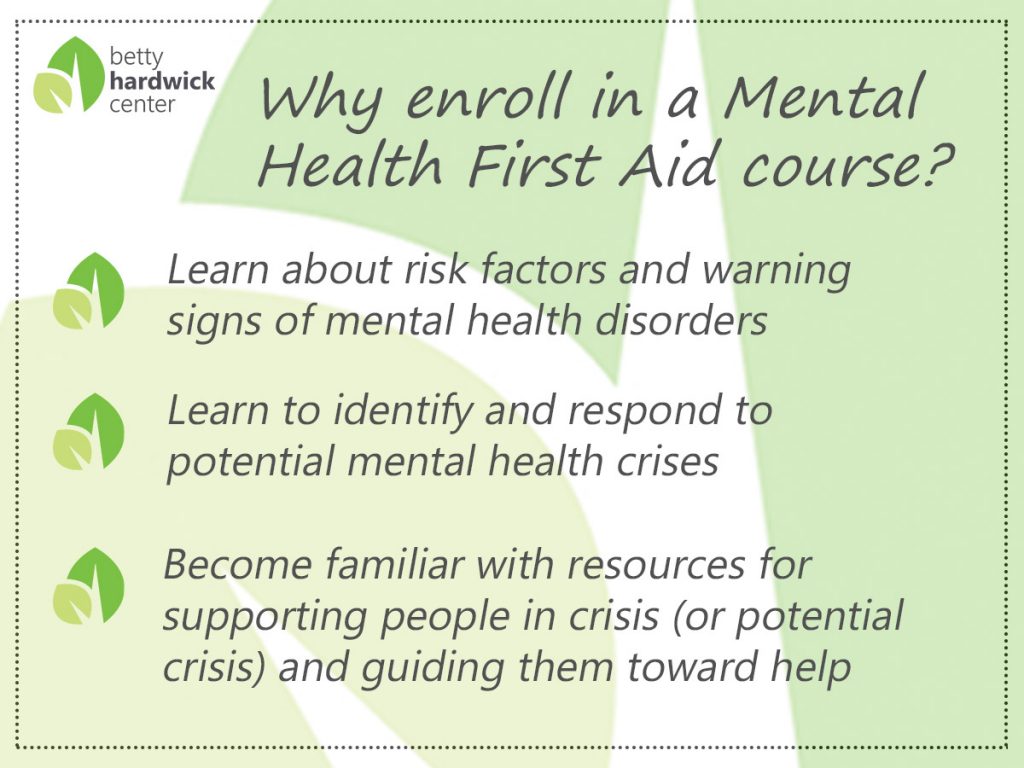 Traditional first aid has achieved common-sense status. Even if we haven't been through the course ourselves, it's likely that we know someone who has, and we might even be familiar with some of the particulars, for instance, ABC (airway, breathing, circulation). We don't have to be experts to understand that these skills are designed to prevent death or the worsening of a serious injury. Until recently, there was no curriculum for applying this "first responder" mentality to mental health crises.
In comparison, MHFA has yet to gain a foothold in broader culture, but according to MentalHealthFirstAid.org, the curriculum has been received by more than 1.5 million trainees and from more than 15,000 certified instructors. At Betty Hardwick Center, we offer courses for free as often as we can, and dedicate several sessions each year to community hubs such as local school districts, universities, and law enforcement agencies.
There are two MHFA curricula: Adult and Youth. While both focus common mental health crises including depression, anxiety, addiction and psychosis, the Youth curriculum is tailored toward parents, teachers, school staff, and other people who routinely interact with minors (ages 12-18). The goal is for trainees to be able to recognize an oncoming crisis; a deepening depression, a behavioral disorder, eating disorder or a growing addiction.
Is MHFA available near me?
Yes! If you're reading this, you're probably somewhere near Abilene, TX, but no matter where you are, you can find upcoming Mental Health First Aid courses in your area. Mental Health First Aid USA is a helpful resource.
Categories: Mental Health, Mental Health First Aid
Tags: crisis, mental health, mental health first aid, mental illness, MHFA