Health and Health Care Disparities (World Health Day 2022 Spotlight)
Contact Details
2616 South Clack
Abilene, TX 79606

Phone: (325) 690-5100
24-Hour Crisis Hot Line: (800)758-3344

In recognition of World Health Day, celebrated on April 7th, it is worth highlighting some of the factors that affect healthcare outcomes.
What are health and health care disparities?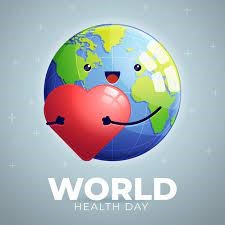 Health and health care disparities refer to differences in health and health care between groups that stem from broader inequities. There are multiple definitions of health disparities. Healthy People 2020 defines a health disparity as, "a particular type of health difference that is closely linked with social, economic, and/or environmental disadvantage," and notes that disparities, "adversely affect groups of people who have systematically experienced greater obstacles to health based on their racial or ethnic group; religion; socioeconomic status; gender; age; mental health; cognitive, sensory, or physical disability; sexual orientation or gender identity; geographic location; or other characteristics historically linked to discrimination or exclusion." The Centers for Disease Control and Prevention (CDC) identifies health disparities as, "preventable differences in the burden of disease, injury, violence, or opportunities to achieve optimal health that are experienced by socially disadvantaged populations."
A health care disparity typically refers to differences between groups in health insurance coverage, access to and use of care, and quality of care. The terms "health inequality" and "inequity" also are used to refer to disparities. Racism, which CDC defines as the structures, policies, practices, and norms that assign value and determine opportunities based on the way people look or the color of their skin, results in conditions that unfairly advantage some and disadvantage others, placing people of color at greater risk for poor health outcomes.
A broad array of factors within and beyond the health care system drive disparities in health and health care (Figure 1 below). Though health care is essential to health, research shows that health outcomes are driven by multiple factors, including underlying genetics, health behaviors, social and environmental factors, and access to health care. While there is currently no consensus in the research on the magnitude of the relative contributions of each of these factors to health, studies suggest that health behaviors and social and economic factors, often referred to as social determinants of health, are the primary drivers of health outcomes and that social and economic factors shape individuals' health behaviors. Moreover, racism negatively affects mental and physical health both directly and by creating inequities across the social determinants of health.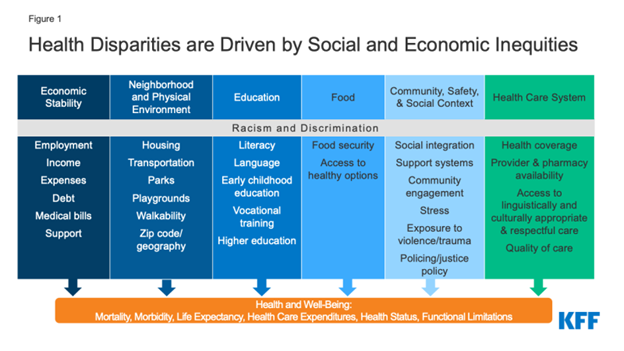 The city of Abilene has received two grants to address some of the health care disparities. The Abilene-Taylor County Public Health District (ATCPHD) received two grants from the Texas Department of State Health Services (DSHS) that touch Diversity, Equity, and Inclusion (DEI). One is a Public Health Workforce Expansion grant, and the other is a Health Disparities grant together totaling $1.9 million. The majority of that was in the workforce expansion grant ($1.5M) which includes about ten new positions ranging from data analysts, epidemiologists, grant managers, nurses to training specialists and admin. support staff, but in recruiting and hiring, there is a component of ensuring that our workforce mirrors the communities we serve in terms of "culture, age, race, ethnicity, SES, physical and mental health, parental status, experience, education, military status and more". This means we not only recruit in traditional ways such as online job postings but recruiting in non-traditional ways such as posting flyers at fast food places, libraries, bus stations and recruiting through social service organizations that touch the populations they are seeking to serve.

The Health Disparities grant seeks to engage specific populations by establishing connections and building trust with the end goal being to improve access to health care services, vaccinations and improve health outcomes for historically marginalized communities. They were directed to pick two specific populations to target, and they have chosen people of color and LGBTQIA populations. Work has begun by hiring Community Health Workers (CHW) who have established key connections within those communities, surveys have been developed to capture the thoughts and feelings of members in the
communities, and a health equity team has been created to guide the work of evaluating our own organization to work on DEI and identifying any unconscious biases that may exist in our programs and processes. Knowing that no individual or organization can change without having some accountability and someone to work synergistically alongside, they have reached out to three local organizations to add to their team. They include Abilene Christian University, Abilene Police Department and Betty Hardwick Center. Noreen White, ECI Program Director, will represent Betty Hardwick as a member of this committee. They are hoping to educate themselves as a committee while exploring training options for their staff. They also believe that collaboration with other like-minded organizations and pooling resources and strategies can make a bigger impact on the community to be more inclusive, equitable and supportive of all residents, leaving no one behind.

— Gwen Boyd-McGhee, M.Ed., LPC
Source: Information concerning health disparities taken from Kaiser Family Foundation
Additional information about City of Abilene Grants provided by Noreen White, ECI Program Director of Betty Hardwick Center
Categories: Mental Health, News
Tags: Abilene, health care, health care disparities, mental health, World Health Day