Get to know the Care Coordination Team
Contact Details
2616 South Clack
Abilene, TX 79606

Phone: (325) 690-5100
24-Hour Crisis Hot Line: (800)758-3344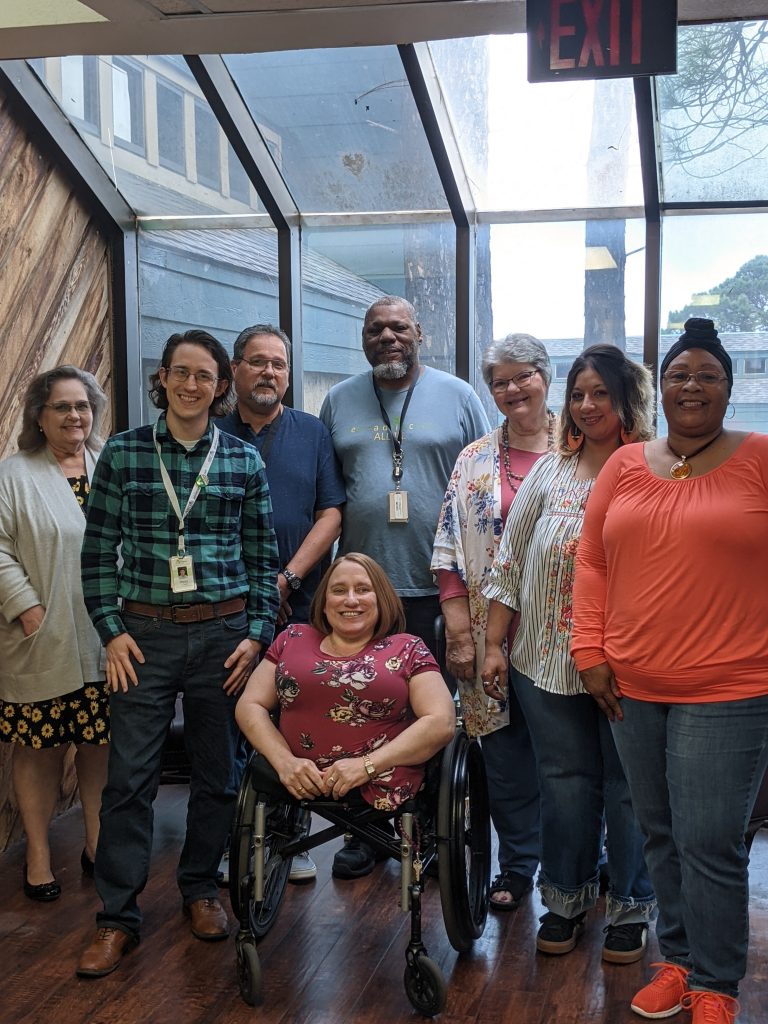 October 2021 — Betty Hardwick Center has a new department up and running… Care Coordination, an extension of Adult Mental Health (AMH) services. The team has already begun the process of enrolling clients in the program and completing Care Coordination Assessments. There are around 300 current enrollees, most of whom are new to receiving services at the Center.
"In the last several years, there's been a growing awareness in recognizing the link between mental health, physical health and wellness," said Dean Pye, Care Coordination Administrator. "Care Coordination is growing out of that awareness that good mental health helps your physical health and vice versa. When we talk about Care Coordination, it is about broadening the focus from just someone's mental health to include their overall wellness."
The staff includes four Care Coordinators, two Peer Providers, plus an Administrative Assistant and Program Administrator, Dean Pye. The department offices out of 2626 S. Clack St. where the Care Coordinators handle Care Coordination Assessments, determining the degree of assistance each client needs and then providing that valuable following-up to help clients navigate between handling their mental health needs and their medical needs. The Peer Providers are primarily assisting clients in-person in the form of transportation assistance to and from appointments, advocating for clients during those appointments, and helping clients see hope to discover their own recovery story.
Among the first steps for the department has been completing assessments on all new Adult Mental Health clients. Currently, all new clients are receiving Care Coordination, as needed, from day one. While most of the 300 clients who have an assigned Care Coordinator are new to BHC, the department is continuing to work through the list of clients
who had previously been receiving services prior to the beginning of Care Coordination.
"Our goal is to continue expanding the service to include all of Adult Mental Health.," said Dean, "I want to be able to expand Care Coordination to those who are already in services and maybe even people who don't have significant medical needs, but we want to have that additional layer of support if that's helpful and if the client would like that."
Many clients must juggle a complicated network of services that overlap in some ways but not in others, in addition to
managing their own day-to-day needs. Care Coordination exists to make that juggling act easier for these clients, who
may be receiving AMH and medication services from Betty Hardwick Center as well as additional medical care from outside doctors.
"It really does require a lot of follow up," said Dean. "[As service providers,] we can say, 'I'll refer you to a doctor.' That's fine, that's good. We want to do that. But the follow-up part is – is the individual even able to get to [the doctor]? Did something come up? Was the person sick that day – especially because of COVID? Sometimes you have symptoms and that pushes the appointment back… Was the client able to communicate that to a doctor in a way that allows them to
reschedule – as opposed to the doctor thinking that this is an unreliable person?"
Being able to follow up on those situations, especially with individuals who are at high risk or need, may be the greatest value of Care Coordination.
"I know the medical world is not often very user-friendly," said Dean. "That is part of the reason that I think this department makes a lot of sense… especially for our clients who are already facing significant challenges. If you need assistance getting there, we have peer providers to help get you there or to help you navigate that situation."
***
Categories: News
Tags: care coordination, mental health